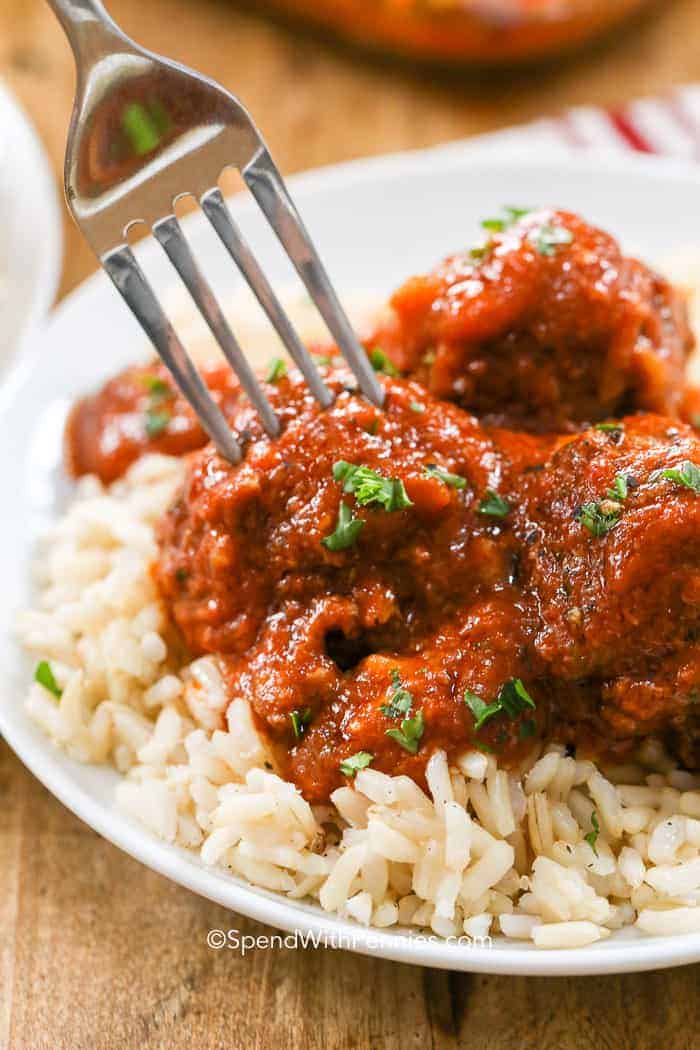 Porcupine Meatballs are a fun twist on a traditional meatball recipe. These tasty meatballs are made with ground beef, rice, onion and seasonings then baked in a rich tomato sauce. So zesty and delicious, and ready in only an hour!
Porcupine Meatballs are similar to a classic meatball recipe, only with rice added to the meat mixture before cooking. When the rice sticks out, these meatballs resemble a little 'porcupine'. I personally love the texture that the rice gives these meatballs. It makes them so soft, tender and juicy all the way through!
Prep Time
    •    Prep time: 15 minutes

    •    Cook time: 1 hour
    •    Yield: Serves 4

Ingredients
    •    1 lb ground beef
    •    1/2 cup cooked long grain rice
    •    1/4 cup onion diced
    •    1/2 tsp garlic powder
    •    2 tbsps parsley fresh
    •    1 tbsp Worcestershire sauce
    •    1 egg


Sauce:
    •    1 can (10 oz) condensed tomato soup undiluted
    •    1 cup vegetable juice
    •    1 cup tomato sauce
    •    1/2 tsp garlic powder
    •    chopped parsley, for garnish
    •    salt and pepper, to taste

Method
Preheat oven to 350 degrees F.

In a large bowl, mix ground beef, rice, onion, garlic powder, parsley, worcestershire, egg, salt, and pepper until just combined.

Shape the mixture into approximately 20 balls. Place in a baking dish, approximately 2qt.

Combine all ingredients for the sauce and pour over meatballs.

Bake for uncovered 1 hour. Garnish with parsley, salt, and pepper. Serve over rice or mashed potatoes.


This great family recipe is thanks to Spend-with-Pennies Recipes at https://www.spendwithpennies.com/porcupine-meatballs/