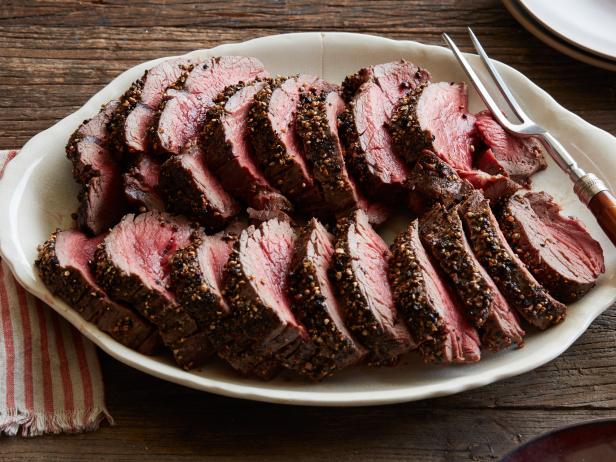 Peppercorn Roasted Beef Tenderloin
Prep Time
    •    Prep and cook time: 40 minutes
    •    Yield: Serves 8-10

Ingredients
    •    kosher salt
    •    2 tsps sugar
    •    1 stick butter
    •    2 cloves garlic, crushed
    •    1 whole beef tenderloin, trimmed of all visible fat
    •    1/2 cup tri-color peppercorns, crushed with a rolling pin

Method
Preheat the oven to 475 degrees F.
Place the tenderloin on a roasting rack. Sprinkle generously with kosher salt and sugar, which will deepen the savory flavors.
Press the crushed peppercorns all over the surface of the meat. Insert a meat thermometer and place in the oven until the beef registers 120 to 125 degrees F for medium-rare/rare. Beef will probably cook in 20 to 25 minutes depending on its temp before it goes in the oven.
While the meat is roasting, melt the butter with the garlic in a small skillet, and allow the butter to slightly brown. Remove the garlic and discard.
Remove the meat when it's done and pour the garlic butter over gently (it should sizzle when it hits the meat). Cover the meat loosely with foil and allow to rest for 10 minutes before slicing.
This great family recipe is thanks to Food Network at https://www.foodnetwork.com/recipes/ree-drummond/peppercorn-roasted-beef-tenderloin-recipe-2070890