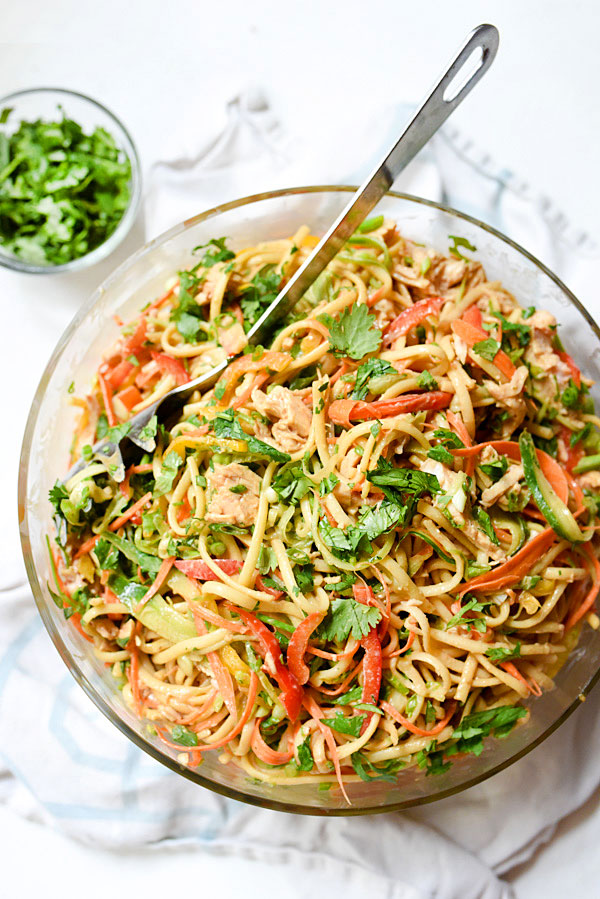 Peanut Noodles With Chicken
This Asian-flavored cold pasta salad is an all-in-one meal or popular side dish.
Prep Time
    •    Prep time: 5 minutes
    •    Cook time: 25 minutes
    •    Yield: Serves 4

Ingredients
    •   1 pound DeLallo linguine noodles
    •   3 chicken breasts cooked and sliced or chopped, about 4 cups
    •   5 carrots peeled and thinly shaved into ribbons
    •   3 seedless cucumbers thinly shaved into ribbons
    •   2 bell peppers red, yellow or orange, seeded and thinly sliced
    •   6 green onions chopped thinly
    •   1/2 bunch cilantro leaves chopped

For the Peanut Dressing:
    •   4 garlic cloves minced or pressed
    •   1- inch knob of ginger peeled and grated
    •   1/2 cup creamy peanut butter
    •   1/3 to 1/2 cup water
    •   3 tablespoons rice vinegar
    •   2 tablespoons sesame oil
    •   2 tablespoons soy sauce
    •   1 tablespoon hot chile sauce like Sambal Olek
Method
Cook the DeLallo linguine noodles according to the package directions. Rinse and set aside.

Add the cooled noodles and chopped vegetables to a large bowl.

Add the ingredients for the dressing to a blender and blend until smooth. Add more water as needed to thin out the dressing. Pour the dressing over the noodles and vegetables and toss to coat. Garnish with more cilantro and green onions as desired.


This great family recipe is thanks to Foodiecrush Recipes at https://www.foodiecrush.com/peanut-noodles-with-chicken/