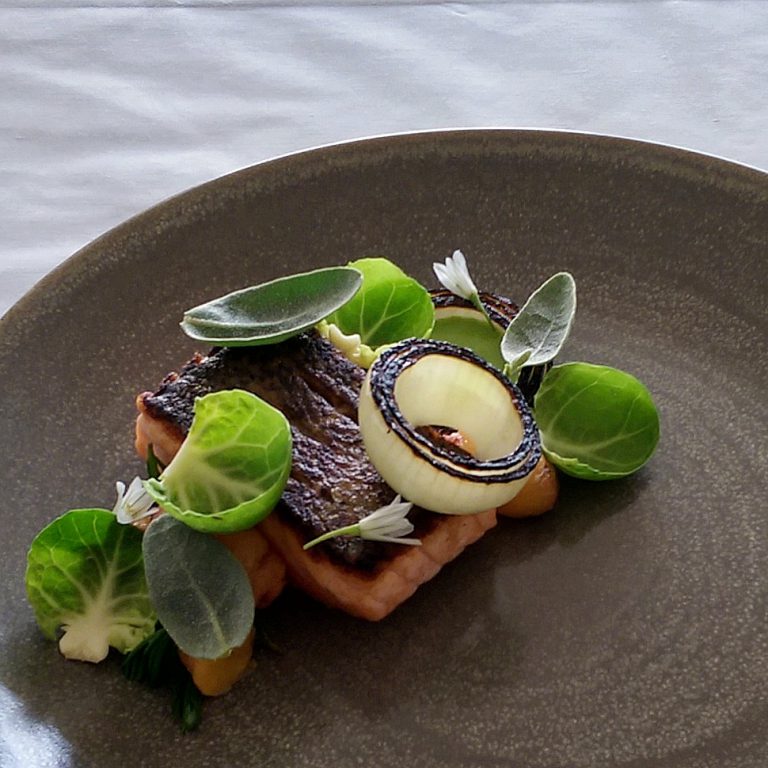 Pan Roasted Huon Salmon, Yam, Watercress
This recipe from Chef Josh Retzer from Stillwater takes comfort food to the next level. Warm flavours come together for a hearty pan roasted salmon dish that would be great for a dinner party or even a quiet night on the couch.
Prep Time
    •    Prep time: 20 minutes
    •    Cook time: 40 minutes
    •    Yield: Serves 4

Ingredients
    •   1/2 cup Butter
    •   1/2 cup Flower
    •   300gm Watercress
    •   50ml Cream
    •   200ml Fish stock
    •   2 Shallots
    •   1 clove Garlic
    •   4 200gm Huon Salmon portions
    •   100gm Fine sugar
    •   70gm Salt
    •   160gm Yams
    •   2 White onions
    •   20 Brussel sprout leaves
    •   2 sprigs Sea blight
    •   12 Garlic flowers
    •   12 Salt bush leaves
Method
Watercress Sauce: Blanch the watercress in boiling water for 10 seconds, strain and transfer to ice water, meanwhile finely chop the shallots and garlic, add to a pot on medium heat with a splash of oil and sweat. Once translucent add the fish stock and simmer for 20 minutes.

While the stock is simmering slowly melt the butter in a separate pot and slowly stir in the butter. Once fully incorporated whisk the mixture on a low-medium heat until it's a nice yellow colour, you want to constantly whisk this and for this recipe not to take it any further then this colour for the roux.

Strain the stock then slowly whisk it into the roux, reduce heat to low and continue to heat. Strain and squeeze the water from the watercress, blitz in an upright blender till a smooth fine puree is achieved. Strain the puree and whisk into the Sauce, whisk in the cream and season, cook out for another eight minutes and strain sauce to finish.


Pan Roasted Huon Salmon: Mix the sugar and salt in a bowl evenly distribute a good sprinkling of this all over each fish portion and let the portions sit out for 20 minutes. This quick little cure will draw out surface moisture and intensify the flavour of your fish.

Once time is up rinse fish under cold water then pat dry. Place a non-stick pan over medium-high heat lubricate with oil and add the portions skin side down, hold each one down for 20 seconds with a spatula so they don't tighten up, cook on skin till you have a nice crisp skin (about eight minutes depending on heat) finish by flipping portions onto flesh for 10 seconds then take out of pan and serve immediately.


Yams and Onions: Preheat Oven to 220c, place the yams in a pot of cold well salted water and bring to the boil, cook till just tender enough to stick a knife through with ease. Strain and pat dry while hot and then place on a lined baking tray and douse with olive oil, season with sea salt and cracked black pepper. Bake until the skin is nice and golden brown. Peel the onions and halve them, place a pan over high heat and add the onions, cut side down, char well, by the time they char at this heat the onions should be ¾ cooked and have a soft and crunchy texture with a bitter and sweet flavour.



To Plate: Place the salmon skin side up add the roasted yams, push out the onion rings (having two pieces per ring) and place two on each plate, Garnish the dish with the sprout leaves, sea blight leaves, garlic flowers and salt bush. Pour on the watercress sauce and serve.


This great family recipe is thanks to Huon Aqua at https://www.huonaqua.com.au/recipes/pan-roasted-huon-salmon-yam-watercress/