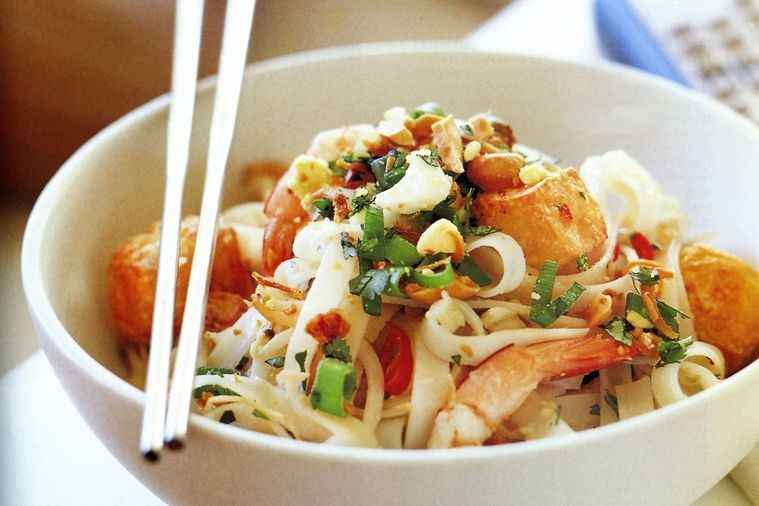 Prep Time
    •    Prep time: 30 minutes
    •    Cook time: 5 minutes
    •    Yield: Serves 4
Ingredients
    •    2 eggs, lightly beaten
    •    20ml (1 tbsp) peanut oil
    •    40ml (2 tbsps) lime juice
    •    Fried shallot*, to garnish
    •    2 garlic cloves, chopped
    •    40ml (2 tbsps) fish sauce
    •    50g deep-fried tofu puffs*
    •    1/2 cup trimmed beansprouts
    •    2 red chillies, seeded, chopped
    •    200g medium-thick rice noodles
    •    1/4 cup chopped fresh coriander
    •    150g green prawns, peeled, with tails on
    •    1 tbsp shaved palm sugar* or brown sugar
    •    4 spring onions, sliced, plus extra to garnish
    •    1/4 cup roasted chopped peanuts, to garnish
Method
Place noodles in a bowl and pour boiling water over to cover. Set aside for 5 minutes, then drain and set aside.
Heat the oil in a wok over high heat. Add the garlic, onion and chilli and stir-fry quickly for a few seconds. Add the prawns and cook for 1 minute, then add the fish sauce, sugar, lime juice, egg and tofu.
Cook, stirring, for a further minute until combined, then toss in the coriander and beansprouts.
Pile into serving bowls and garnish with peanuts, onions and fried shallots.


This great family recipe is thanks to delicious Recipes at https://www.delicious.com.au/recipes/pad-thai-prawns/d4c523df-dd1b-423f-8b7f-2a0b100f0643?current_section=recipes&r=recipes/collections/prawnrecipes