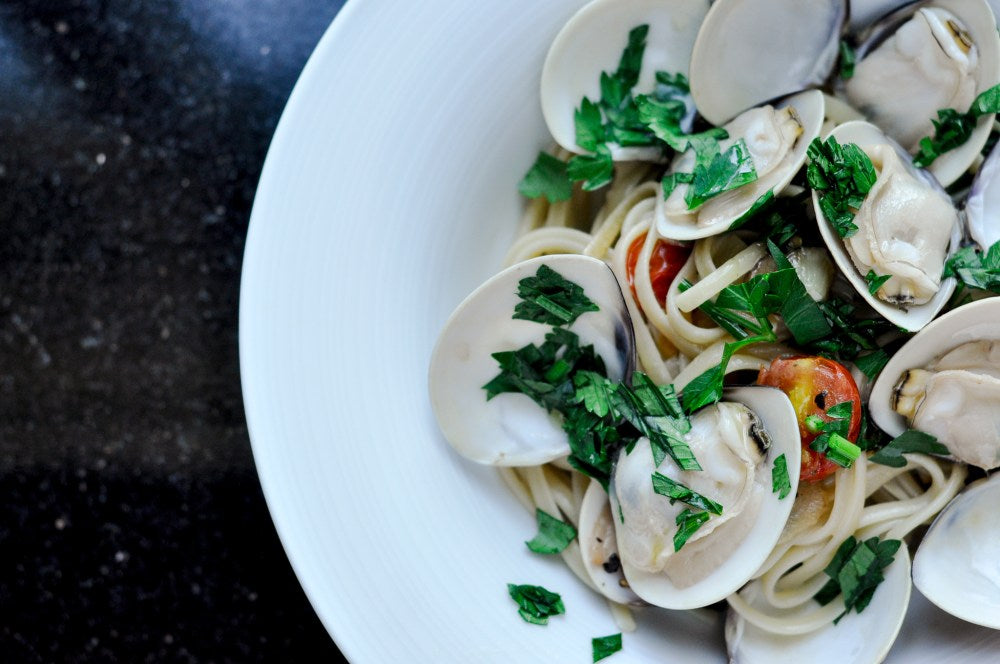 Michelle's Linguine Vongole
Spaghetti alle vongole, Italian for spaghetti with clams, is a dish that is very popular throughout Italy, especially in Campania. And today, I have devised my own adaptation of this popular dish.
This bold and beautiful clam pasta is easy and fast to make. It's a real celebration of the juice and flavour of clams, and once you know how, it's a simple dish that'll hit the spot on the flavour front, every time.
I chose to use linguine here (personal preference really). Clams I simply procured from the local fishmonger. Anchovies were John West. And to add blobs of vibrant colour to the dish – a nice counterpart to the purply shells of seafood – I opted for a small handful of cherry tomatoes. The pert little beauties are sweet enough to provide a counterpoint to the salty clams and I would advise to simmer them in white wine before the clams are added to the pan, breaking down to release their flavour into the sauce.
Prep Time

    •    Prep time: 10 minutes
    •    Cook time: 10 minutes
    •    Yield: Serves 2
Ingredients
    •    250g of clams
    •    150g of dried quality linguine
    •    125ml of dry white wine
    •    2 anchovies
    •    1/2 cup of cherry tomatoes, halved
    •    1 pinch of dried chilli flakes
    •    1 bunch of fresh Italian parsley, finely diced
    •    4 garlic cloves, finely sliced
    •    4 tablespoon of extra virgin olive oil
    •    Juice of 1/2 fresh lemon
Method
Rinse the clams in cold running water, and scrub if necessary, then put them into a large bowl and cover with cold water. Salt generously and leave for a couple of hours, then drain and rinse well to remove any grit or sand.
Put the spaghetti into a large pan of salted boiling water and cook for a couple of minutes under the recommended time, until nearly done. Set aside in a colander.
Meanwhile, put half the olive oil in a large pan over a medium heat and soften the garlic and anchovies. Add the halved cherry tomatoes and drained clams. Turn up the heat.
Pour in the wine, cover and leave for a couple of minutes until most of them have opened. Discard any that are still closed. Add the others to the sauce, picking a few out of their shells for variety.
Drain the linguine and add to the pan. Toss well and leave for a minute, then stir through the chopped parsley, lemon juice. Season to taste with black pepper and serve with dried chilli flakes.


This great family recipe is thanks to Bonappetit at https://www.kitchenmess.com/2018/05/19/4339/