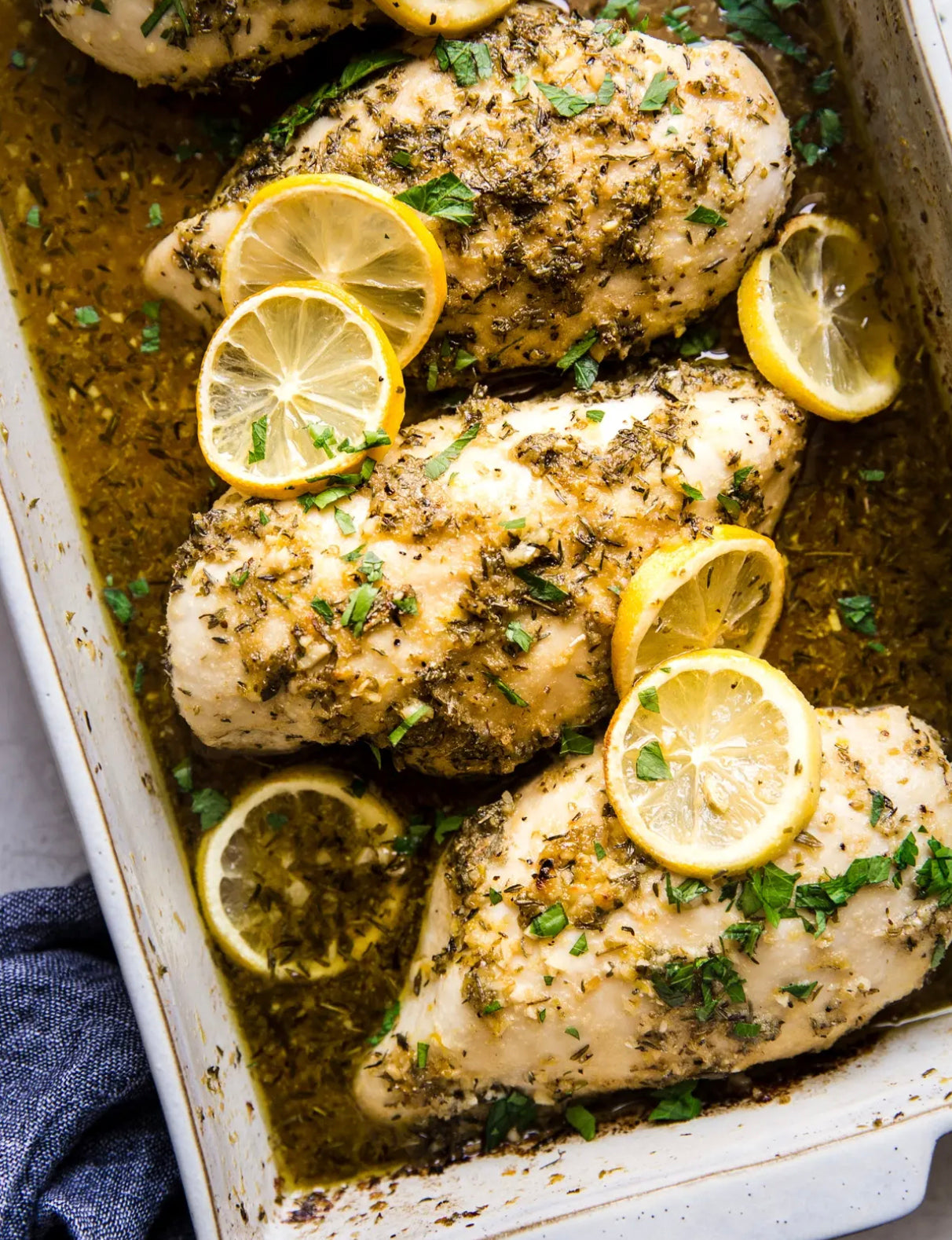 This easy Lemon Chicken recipe shines with a sunny, lemony zing. Garlic and herbs plus a glug of white wine - mean that these juicy, tender chicken breasts are as delicious as they are healthy.
This Chicken recipe is really just a simple baked chicken recipe, jazzed up with some punchy ingredients that add lots of flavor without taking away from how super-healthy baked chicken breasts are. A recipe you might turn to on a busy weeknight when you need dinner to be simple as it can be. It's also a great one to include in your weekend meal-prep because one of the many reasons we love lemon chicken breasts is their versatility. Having a container of them in the fridge, all baked and ready to go, means you've got the makings of lots of meals! They can anchor a simple and healthy lunch salad, and are delicious sliced up into hearty sandwiches.
Prep Time
    •    Prep time: 5 minutes
    •    Cook time: 30 minutes
    •    Yield: Serves 6

Ingredients
    •    1/4 cup olive oil
    •    1/2 black pepper
    •    2 tsps salt divided
    •    2 tsps thyme dried
    •    1 tbsp brown sugar
    •    2 tsps garlic powder
    •    2 tsps oregano dried
    •    4 boneless chicken breasts
    •    1 tbsp lemon zest (2 lemons)
    •    2 tbsps minced garlic (6 cloves)
    •    1 lemon, cut into 6 slices (Optional)
    •    2 tbsps lemon juice, freshly squeezed
    •    1/2 cup dry white wine, such as sauvignon blanc, pinot grigio or pinot gris

Method
Heat the oven to 400 degrees F.
Pat the chicken breasts dry and place them in a 9 x 13 baking dish.
In a small bowl, mix the olive oil, oregano, thyme, garlic powder, 1 teaspoon salt and pepper to create a thick marinade/paste. Coat the chicken breast with seasoning paste.
Using the same bowl mix together the white wine, garlic, lemon zest, lemon juice, sugar and remaining 1 teaspoon salt. Pour over chicken breast.
If using, nestle the lemon slices between the chicken bake for 15 minutes, baste the chicken with the pan juice, bake for another 15 minutes or until the internal temperature of the chicken reads 165 F.
This great family recipe is thanks to The Modern Proper at https://themodernproper.com/lemon-chicken