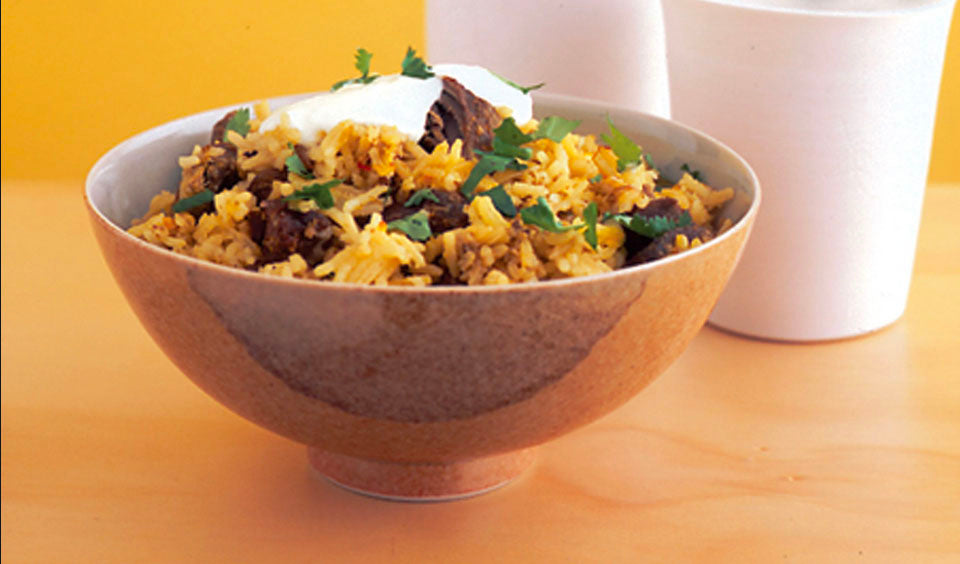 Lamb Biryani (diced lamb)
This top meal is inspired by Indian cuisine, is full of flavour and good for you, too.
Prep Time
    •    Prep time: 20 minutes
    •    Cook time: 30 minutes

    •    Yield: Serves 4
Ingredients
    •    1 tsp chilli powder
    •    1 tsp ground turmeric
    •    3 tsps ground coriander
    •    3 garlic cloves, chopped
    •    2 tbsps fresh lemon juice
    •    80g (1/2 cup) frozen peas
    •    Salt & ground black pepper
    •    2 large brown onions, halved, thinly sliced
    •    185ml (3/4 cup) Massel vegetable liquid stock
    •    3cm piece fresh ginger, peeled, finely chopped
    •    500g Trim Lamb leg steaks, cut into 3cm pieces
    •    natural yoghurt mixed with diced cucumber, to serve
Method
To cook the rice, combine saffron and hot water in a small bowl, and set aside. Heat oil in a large saucepan over medium heat. Add the onion and cook, uncovered, stirring often, for 10 minutes or until light golden. Add the cumin, cardamom and cinnamon, and cook, stirring, for 30 seconds or until aromatic. Remove from the heat.



Rinse rice under cold running water until water runs clear. Drain. Add the rice, saffron mixture and stock to pan. Bring to the boil over high heat. Reduce heat to low, cover and cook for 18 minutes. Remove from heat and set aside, covered, for 10 minutes.


Meanwhile, combine coriander, turmeric and chilli powder in a medium bowl. Add lamb and toss to coat. Cover and set aside.


Combine stock, onions, garlic, ginger, salt and pepper in a medium saucepan. Bring to the boil over high heat. Reduce heat to low, cover and cook, stirring occasionally, for 15 minutes or until onions are soft. Add lamb mixture, peas and lemon juice. Cook, covered, stirring often, for 5 minutes or until lamb is just cooked. Remove from heat.


Place 1/2 the rice in a heatproof serving dish. Spoon over 1/2 the lamb mixture. Repeat with the remaining rice and lamb mixture. Serve with the cucumber yoghurt.


This great family recipe is thanks to Taste Recipes at https://www.taste.com.au/recipes/lamb-biryani-2/43572aff-6695-4f2c-b34a-2d8f474414c0