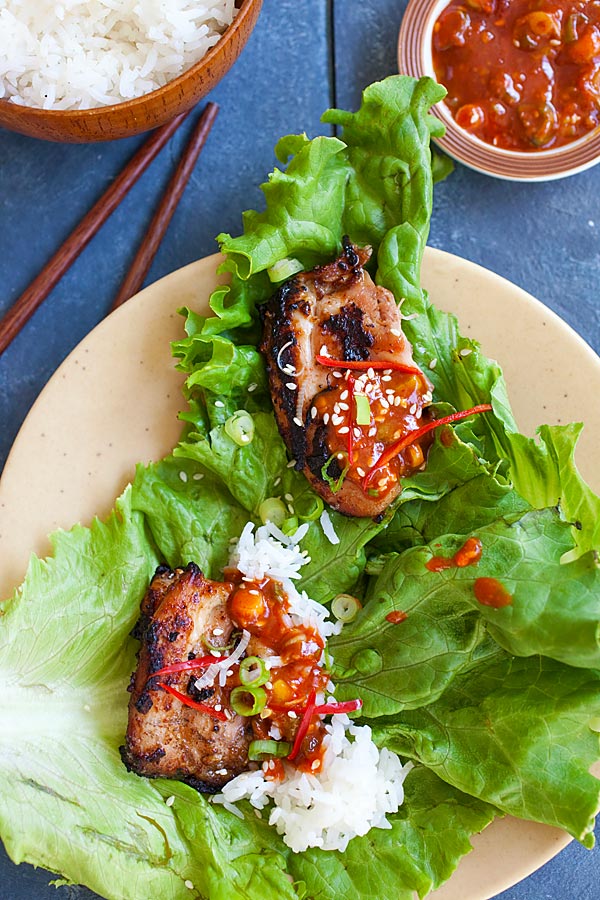 Korean BBQ Chicken (Dak Gogi) - juicy and delicious BBQ chicken served with an amazing Korean spicy dipping sauce. Serve with rice and lettuce leaves.
The chicken is bursting with intense flavors, extremely juicy, and the serving of the chicken with some rice, lettuce leaf (called ssam), and the ssamjang sauce  is just brilliant!
This Korean BBQ Chicken (dak gogi) recipe is a must try. Serve the meat as a Korean lettuce wrap (ssam) and you have the wonderful combination of meat and vegetable, which is appetizing and very refreshing. Enjoy!
Prep Time
    •    Prep time: 15 minutes
    •    Cook time: 10 minutes
    •    Yield: Serves 4

Ingredients
For Marinade:
    •    1/2 tsp salt
    •    4 tsps mirin
    •    1/2 tsp pepper
    •    3 tbsps soy sauce
    •    1/2 cup sesame oil
    •    3 tbsps light corn syrup
    •    1/3 cup shallots, finely chopped
    •    4 tbsps finely grated peeled fresh ginger
    •    2 lb. (approx. 1kg) boneless, skinless chicken thighs
    •    2 tsps Korean red chile, flakes, gochugaru or crusted red pepper flakes

To Serve Alongside:
    •    Ssamjang sauce
    •    4 cups cooked white rice
    •    1 tsp roasted sesame seeds
    •    1/4 cup thinly sliced scallions
    •    16 lettuce leaves, washed and dried
    •    2 tbsps thinly sliced fresh long red chiles or big pinch of Korean chile threads

Method
In a large bowl, mixing all the ingredients of the Marinade together.
Add the chicken to Marinade, make sure to stir coat the chicken evenly. Cover and refrigerate for 2 hours.
Fire up the grill, brush a bit of oil on the surface. Grill the chicken until they turn golden brown and charred on both sides. Removed from grill cut crosswise into 1 1/2-inch thick strips. Serve immediately with the Alongside.
This great family recipe is thanks to RASA MALAYSIA at https://rasamalaysia.com/korean-bbq-chicken-recipe/