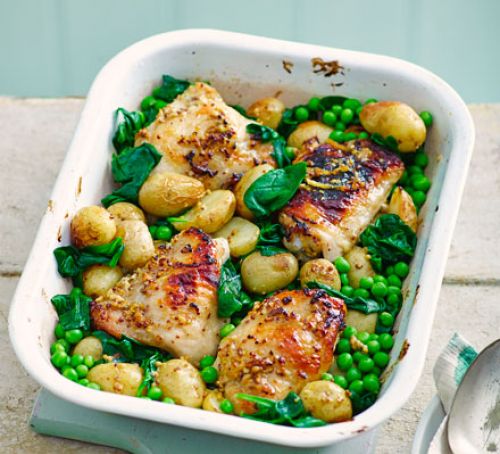 Honey & Mustard Chicken Thighs with Spring Veg
This self-saucing one-pot is like a roast dinner without the fuss, plus it's rich in iron, fibre and folate.
Prep Time
    •    Prep time: 10 minutes
    •    Cook time: 40 minutes
    •    Yield: Serves 2
Ingredients
    •    2 tbsp honey
    •    100g spinach
    •    1 tbsp olive oil
    •    100g frozen peas
    •    zest and juice 1 lemon
    •    2 garlic cloves, crushed
    •    4 chicken thighs, skin on
    •    1 tbsp wholegrain mustard
    •    300g new potatoes, unpeeled, smaller left whole, bigger halved
Method
Heat oven to 200C/180C fan/ gas 6. In a small bowl, mix together the honey, mustard, garlic and the lemon zest and juice. Pour the marinade over the chicken thighs and season.
Put the chicken, skin-side up, on a large baking tray, then dot the new potatoes in between them. Drizzle the oil over the potatoes and sprinkle with sea salt. Roast in the oven for 35 mins until the chicken skin caramelises and is charred in places.
Add the spinach and peas to the roasting tray. Return to the oven for 2-3 mins until the spinach has begun to wilt and the peas are hot and covered in the mustardy sauce.


This great family recipe is thanks to BBC Goodfood Recipes at https://www.bbcgoodfood.com/recipes/honey-mustard-chicken-thighs-spring-veg