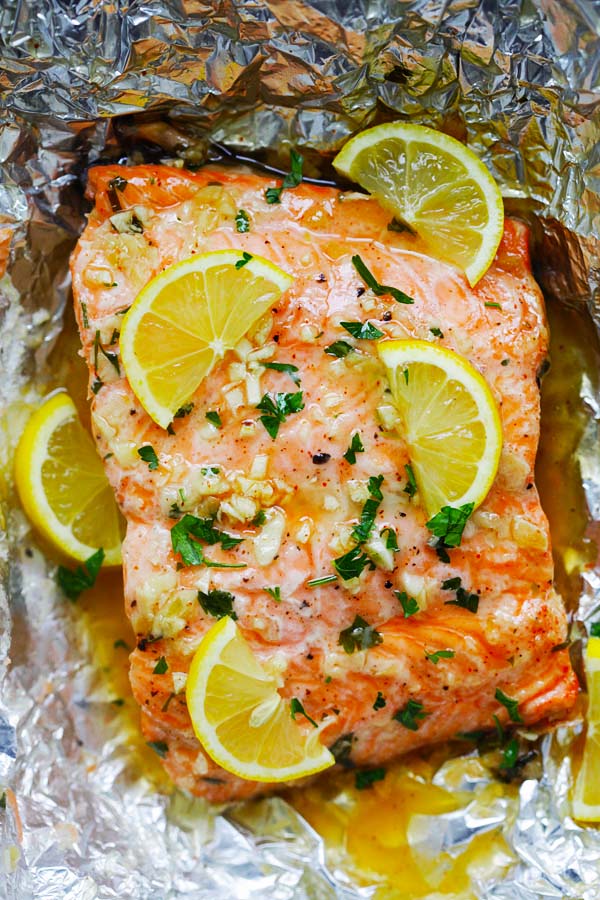 Honey Garlic Butter Salmon
This SUPER EASY and QUICK baked salmon dinner that takes only 10 minutes active time and 15 minutes in the oven. Foil-wrapped baking means there is no dish to wash!
Salmon in foil is an easy way to cook salmon. It also delivers amazing results as baked salmon is moist, juicy, tender and bursting with flavors.
Prep Time
    •    Prep time: 10 minutes
    •    Cook time: 15 minutes
    •    Yield: Serves 3 - 4

Ingredients
    •    salt
    •    lemon wedges
    •    ground black pepper
    •    1 lb. (approx. 0.4 kg) salmon fillet

For honey garlic butter:
    •    2 tbsps honey
    •    1/4 tsp salt or to taste
    •    1 tsp chopped parsley
    •    2 cloves garlic, minced
    •    2 tbsps unsalted butter, melted
    •    3 dashes cayenne pepper (Optional)

Method
Preheat oven to 400°F (207°C).
In a small bowl, melt the butter in a microwave, about 10-15 seconds. Add honey, garlic, salt, cayenne pepper (if using) and chopped parsley.
Lay out two big sheets of aluminum foil. Make sure they are big enough to cover and wrap the salmon. Place the salmon on top and season with salt and ground black pepper on both sides of the salmon. Add 1/2 of the Honey Garlic Butter to the fish. Spread well. Wrap up the foil tightly to make sure there is no leakage.
Bake in the oven for 15 minutes. Unwrap the foil and spoon out the extra water that seeped out from the salmon. Drizzle the remaining Honey Garlic Butter on the salmon, squeeze some fresh lemon juice on the salmon and serve immediately.
This great family recipe is thanks to RASA MALAYSIA at https://rasamalaysia.com/honey-garlic-butter-salmon/