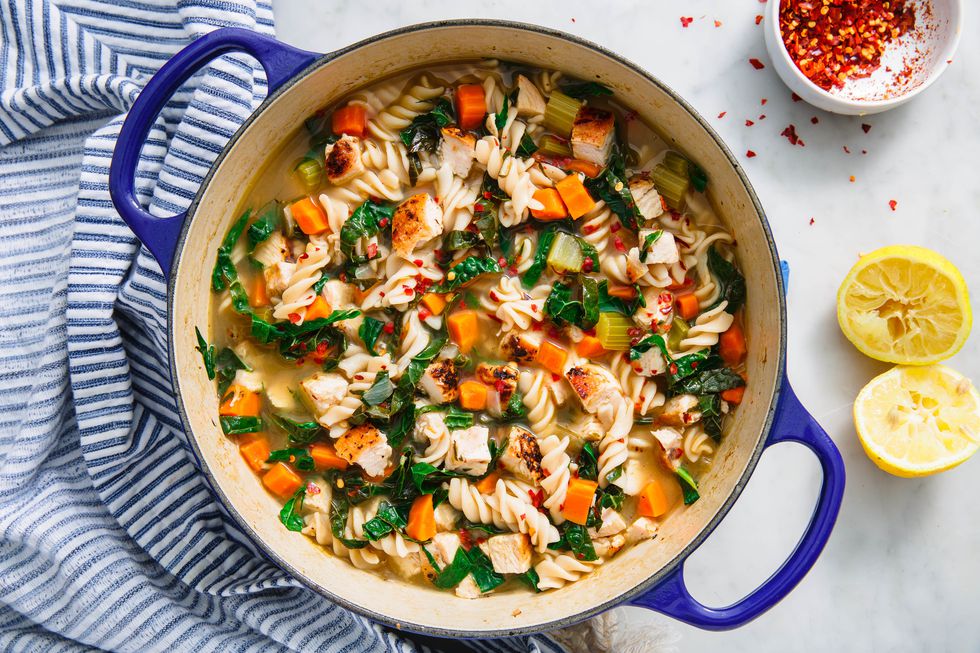 Healthy Chicken Noodle Soup
Classic Chicken Noodle Soup is already pretty good for you. But we made this even healthier by loading it up with lots of kale, using low-sodium broth, and opting for boneless skinless chicken breast. We also used gluten-free noodles, but obviously egg noodles would be more than fine here.
Prep Time
    •    Prep time: 10 minutes
    •    Cook time: 1 hour and 5 minutes
    •    Yield: Serves 4

Ingredients
    •   2 tbsp. extra-virgin olive oil, divided
    •   1 lb. boneless skinless chicken breasts
    •   Kosher salt
    •   Freshly ground black pepper
    •   1 tsp. dried oregano
    •   1 large onion, chopped
    •   3 large carrots, peeled and chopped
    •   3 stalks celery, chopped
    •   2 cloves garlic, minced
    •   5 c. Swanson Chicken Broth
    •   3 c. water
    •   Small bunch thyme
    •   1 bay leaf
    •   1 (12-oz.) package gluten-free noodles
    •   1 bunch Tuscan kale, stemmed and shredded
    •   Juice of 1 lemon

Method
In a large pot or Dutch oven over medium high heat, heat 1 tablespoon oil. Season chicken all over with oregano, salt, and pepper and add to pot. Cook until golden and cooked through, about 8 minutes per side.
Remove from pot and let rest 10 minutes before chopping into small chunks.
Add about 2 tbsp chicken broth to skillet (it should bubble immediately!), then use a wooden spoon to scrape up and golden chicken bits. Let cook until most liquid has reduced down, then add remaining tablespoon oil.
When oil is hot, add onion, carrot, and celery. Season with salt and pepper and cook until beginning to soften, about 5 minutes. Stir in garlic and cook until fragrant, 1 minute.
Pour over broth and water and add bay leaf and thyme. Bring to a steady simmer and let simmer 15 minutes. Season with salt and pepper.
Increase heat and bring mixture to boil, then add noodles. Cook until noodles are tender, about 7 minutes. Discard thyme stems and bay leaves, then stir in kale, lemon juice, and chopped chicken.


This great family recipe is thanks to Delish Recipes at https://www.delish.com/cooking/recipe-ideas/a23480757/healthy-chicken-noodle-soup-recipe/