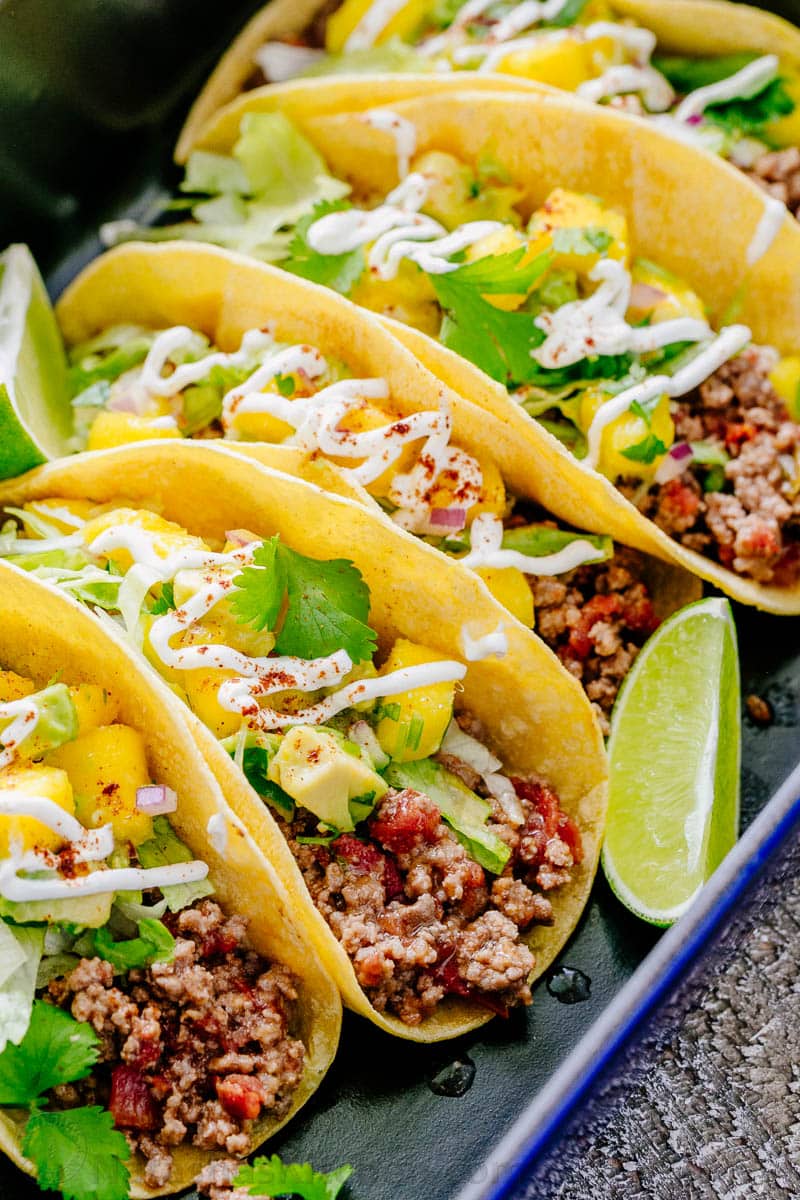 This Beef Taco Recipe with the juiciest ground beef taco meat. Beef tacos are perfect for easy entertaining or busy weeknights and they always get rave reviews!
Prep Time

    •    Prep time: 15 minutes
    •    Cook time: 15 minutes
    •    Yield: Serves about 20 small tacos
Ingredients
For the Beef Mixture:
    •    2 lbs ground beef chuck
    •    10% to 20% fat
    •    20 oz Rotel Tomatoes with Green Chilis (Two 10 oz cans with their juice)
    •    1 tsp chili powder plus more for serving
    •    1 tsp kosher salt or to taste
To Serve Beef Tacos:
    •    20 yellow corn tortillas (small)
    •    1/2 iceberg lettuce shredded
    •    2/3 cup sour cream for topping
    •    2 limes cut into wedges
    •    1/4 bunch Cilantro sprigs to serve
Method
Heat a large non-stick skillet over med-high heat. Add 2 lbs ground beef and cook, stirring occasionally until cooked through (5 minutes). Use a spoon to skim off and discard most of the excess fat, leaving about 2-3 Tbsp in the pan.

Add 2 cans of tomatoes, 1 tsp chili powder and 1 tsp salt. Continue to cook until beef is fully cooked and sauce slightly reduced and most of the tomato liquid has evaporated (7 to 10 minutes).

Before serving, on a dry large non-stick pan over medium/high heat, toast both sides of tortillas just until hot and barely starting to turn golden (15-30 seconds per side). Remove to a plate and cover loosely with foil to keep warm.

To serve, place a heaping spoonful of beef over each tortilla, top with lettuce, mango salsa, sprigs of cilantro, sour cream and a sprinkle of chili powder if desired. Squeeze fresh lime juice just before eating.


This great family recipe is thanks to Natasha's Kitchen Recipes at https://natashaskitchen.com/beef-tacos/