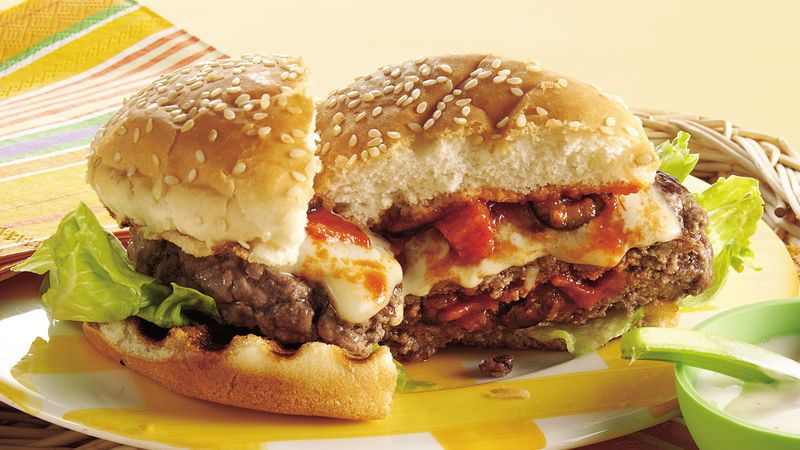 Grilled Stuffed Pizza Burgers
Two all-time favorite foods together in one terrific sandwich!
Prep Time

    •    Prep time: 35 minutes
    •    Cook time: 35 minutes
    •    Yield: Serves 6

Ingredients
    •    2 lb lean (at least 80%) ground beef
    •    1/2 tsp salt
    •    1/4 cup chopped pepperoni (about 1 oz)
    •    2 tbsps sliced ripe olives
    •    1/2 cup pizza sauce
    •    6 slices (3/4 oz each) mozzarella cheese, cut in half diagonally
    •    6 burger buns, split, toasted
    •    6 leaves lettuce

Method
Heat gas or charcoal grill. In large bowl, mix ground beef and salt. Shape mixture into 12 thin patties, each about 4 inches in diameter.

In small bowl, mix pepperoni, olives and 1/3 cup of the pizza sauce. Spoon rounded tablespoon pepperoni mixture onto center of 6 patties; spread slightly. Top with remaining patties; press edges together firmly to seal.

Place patties on grill; cover grill. Cook with medium heat 8 to 12 minutes, turning once, until thermometer inserted in center of patties reads 160°F (avoid inserting in filling). During last 1 to 2 minutes of cooking time, top each patty with cheese and rounded teaspoon of remaining pizza sauce, and place buns, cut side down, on grill; cook until cheese is melted and buns are lightly toasted.

To serve, place lettuce and patties in bottom halves of buns. Cover with top halves of buns.


This great family recipe is thanks to Betty-Crocker Recipes at https://www.bettycrocker.com/recipes/grilled-stuffed-pizza-burgers/3ee05242-0680-4b20-a65e-b6d6047a492c