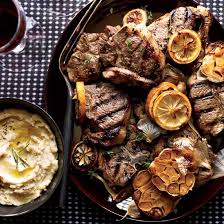 Grilled Lamb Chops with Roasted Garlic
Prep Time

    •    Prep time: 30 minutes
    •    Cook time: 1 hour
    •    Yield: Serves 4
Ingredients
    •   1/4 cup extra-virgin olive oil, plus more for drizzling
    •   4 thyme sprigs
    •   1 garlic clove, minced, plus 2 heads of garlic, halved crosswise
    •   2 teaspoons chopped rosemary leaves
    •   1/4 teaspoon ground cumin
    •   8 lamb loin chops
    •   Salt and freshly ground black pepper
    •   White bean puree, for serving
Method
In a large, shallow dish, combine the 1/4 cup of olive oil with the thyme, minced garlic, rosemary and cumin. Add the lamb chops and turn to coat with the marinade. Refrigerate overnight.
Preheat the oven to 350°. Set the halved heads of garlic cut side up on a large sheet of foil and drizzle with oil. Wrap the garlic in the foil and roast for 1 hour, until tender.
Light a grill. Remove the chops from the marinade; discard the thyme and scrape off the garlic. Season the chops with salt and pepper and grill over moderate heat until lightly charred and medium-rare, 5 minutes per side. Serve the chops with the roasted garlic and White Bean Puree.


This great family recipe is thanks to Food and Wine Recipes at https://www.foodandwine.com/recipes/grilled-lamb-chops-with-roasted-garlic