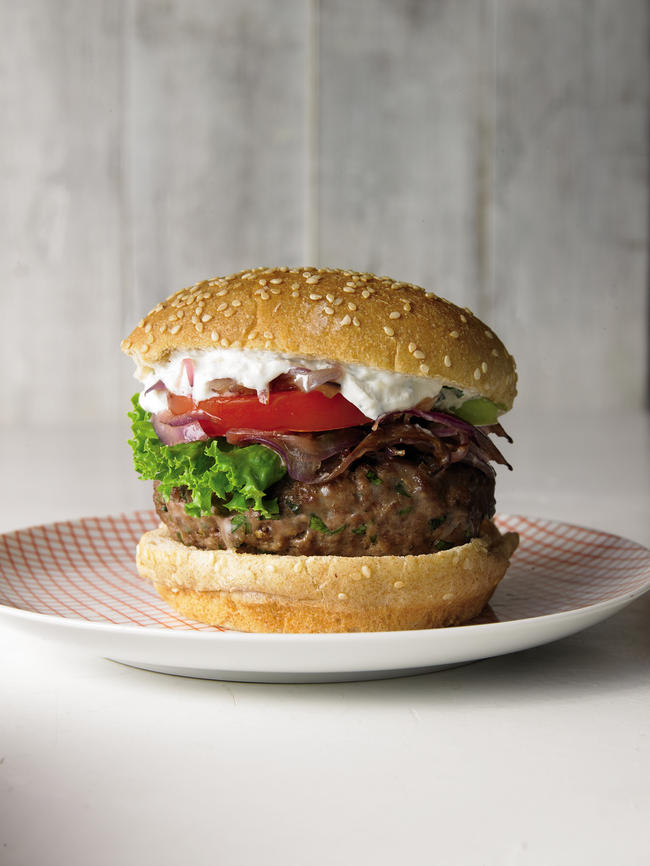 Grass-Fed Beef Burgers with Blue Cheese Sauce
Thick, rich Greek yogurt is a boon to the healthy cook, adding a creamy quality to sauces and dressings. Here it forms the base of a cheese sauce--all you'll need to top the simply seasoned burgers.  Get your Beef Mince online now.
Ingredients
2 teaspoons olive oil
1 medium red onion, halved lengthwise and sliced
1 1/4 pounds lean grass-fed ground beef or 90% lean ground beef
1 tablespoon plus 2 teaspoons worcestershire sauce
1 teaspoon onion powder
1/4 teaspoon garlic powder
5 tablespoons chopped fresh flat-leaf parsley
1/2 cup low-fat plain Greek yogurt
1 1/2 ounces blue cheese, crumbled (about 1/3 cup)
1 teaspoon dijon mustard
4 whole wheat hamburger buns
4 leaves green leaf lettuce
1 medium tomato, sliced
Directions
Heat the broiler and coat a baking sheet with cooking spray. Heat the oil in a medium skillet on medium-high heat. Add the onion and cook, stirring occasionally, until tender and lightly browned, about 8 minutes. Season to taste with salt and freshly ground black pepper.
Combine the beef, Worcestershire sauce, onion powder, garlic powder, 4 tablespoons of the parsley, 1/4 teaspoon salt, and freshly ground black pepper in a large bowl. Form into 4 patties, about 3" wide and 1/2 " thick. Place on the prepared baking sheet and broil 6" from the heat until the patties feel firm and the centers are no longer pink, turning halfway through, about 12 minutes.
Mix the yogurt, blue cheese, mustard, and the remaining 1 tablespoon parsley in a small bowl. Spread the top halves of the buns with the yogurt mixture. Top the bottom half of each bun with a patty, lettuce leaf, one-quarter of the onions, and a slice of tomato. Cover with the top halves of the buns and serve.

This amazing recipe is provided by Mens Health website http://www.menshealth.com/recipes/grass-fed-beef-burgers-with-blue-cheese-sauce