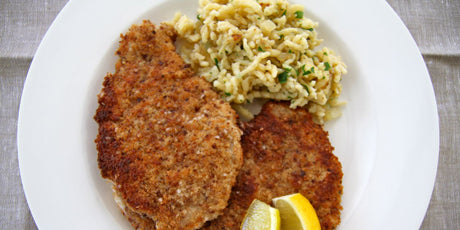 Gluten-Free Pork Schnitzel
Schnitzel is a classic entrée, and it can be part of a gluten-free repertoire. Making your own gluten-free breadcrumbs is simple; just use your favourite style of gluten-free bread.


Prep Time

    •    Prep time: 10 minutes
    •    Cook time: 20 minutes
    •    Yield: Serves 4


Ingredients


    •    600 g pork tenderloin
    •    ½ cup cornstarch
    •    2 eggs
    •    2 cup fresh gluten-free breadcrumbs*
    •    salt and pepper
    •    butter and vegetable oil, for cooking
    •    lemon wedges, for serving


Method


Cut the pork tenderloin into 8 pieces. Place each portion, one at a time, into a re-sealable bag and flatten using the flat side of a meat tenderizer or even the bottom of a pot.


Measure the cornstarch onto a plate and whisk the eggs lightly in a separate bowl. Place the breadcrumbs onto another plate and season lightly, stirring to mix.


Melt a bit of butter along with the oil in a large sauté pan over medium-high heat. Dip each pork tender portion in the cornstarch, shaking off any excess, and then dip this into the egg, followed by a complete coating of the breadcrumbs. Place the schnitzels into the hot pan (you may have to cook them in batches) and cook for about 4 minutes on each side. Serve the schnitzel with wedges of lemon on the side.


* To make gluten-free breadcrumbs, pulse stale (2-3 day old) gluten-free bread in a food processor until they are of a fine crumb. Any remaining breadcrumbs can be frozen for later use.

This great family recipe is thanks to
Food Network
Recipes at https://www.foodnetwork.ca/recipe/gluten-free-pork-schnitzel/13654/