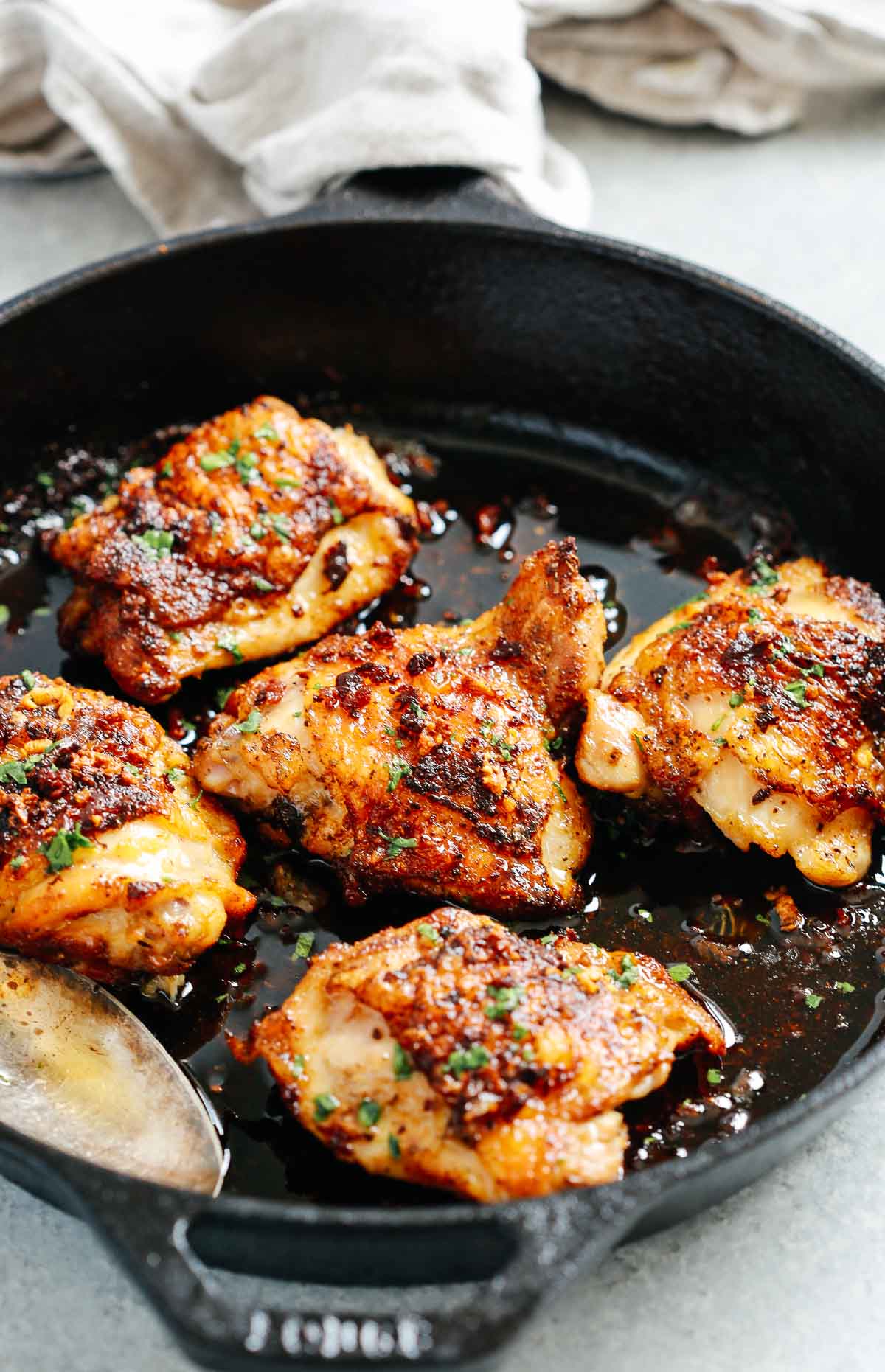 Garlic Butter Chicken Thighs
Garlic butter chicken thighs are easy to make and taste great with your favorite sides. The skin is perfectly crispy and the thighs are so juicy. Easily made in one pan, no marinating needed, and full of flavour, you can make this recipe for dinner tonight in just 30 minutes!
Prep Time
    •    Prep and cook time: 30 minutes
    •    Yield: Serves 4

Ingredients
    •    Salt and pepper
    •    Garlic - crush fresh cloves or use minced from a jar
    •    Olive oil - substitute any other neutral cooking oil like avocado, canola or vegetable
    •    Chicken Thighs - use bone-in, skin-on to get the outside crispy while keeping the inside moist
    •    Butter - I used grass-fed butter, but you can use any type of butter you prefer. Be sure to use unsalted butter
    •    Fresh parsley - or use any fresh herb of your choice to garnish, you can use dried herbs such as Italian seasoning

Method
Prepare the ingredients:
Use a paper towel to pat dry the chicken thighs. This helps the seasoning stick to the meat better and get a nice sear. If your thighs have moisture on them, they'll steam instead of sear in the pan.
Season both sides with salt and pepper.
Mince the garlic and chop the parsley, then set aside. This way it you don't have to do it while cooking the chicken. Preparing everything in advance makes cooking go much smoother and easier.

Brown the chicken:
Add olive oil in a skillet over medium-high heat. Place the thighs in a single layer in a large cast iron skillet and cook until skin is golden brown and crispy. Don't move it around as it'll affect the sear you'll get. When the chicken thighs are ready to be flipped, they'll no longer stick to the pan.
If you'll be using a regular nonstick skillet, heat some oil in the pan first before adding the chicken so it doesn't stick.

Make garlic butter and bake:
On the side of the pan, melt the butter.
Add in the garlic and stir to combine. Cook a little longer, until it is fragrant. Make sure it's not on high heat as you don't want the garlic to burn.
Then, place the skillet in the oven and bake until the chicken is cooked all the way through. If you are not using a cast iron skillet, transfer everything to a sheet pan so you can safely finish it in the oven. When in the oven, if your chicken is getting very dark, cover it with a foil, until the chicken is completely cooked.

Baste and serve:
Remove from the oven and spoon the garlic butter over the chicken a few times to coat it.
Then, garnish with the chopped parsley and serve with your favorite sides.

TIPS:
    •    For boneless chicken thighs, it cooks quickly, in about 15 to 20 minutes, depending on the size of your chicken.
    •    For bone-in thighs, it needs at least 25 and 30 minutes to be fully cooked.
This great family recipe is thanks to PRIMAVERA KITCHEN at https://www.primaverakitchen.com/garlic-butter-chicken-thighs/