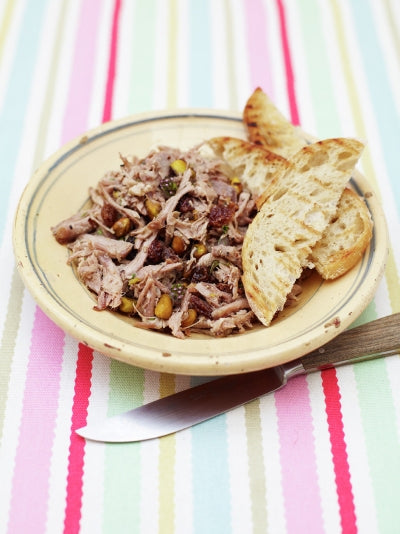 Prep Time
    •    Prep and cook time: 2 hours & 10 minutes
    •    Yield: Serves 2
Ingredients
    •    2 duck legs
    •    50 g sultanas
    •    250 g duck fat
    •    2 cloves of garlic
    •    1 tsp shallot vinegar
    •    5 sprigs of fresh thyme
    •    50 g shelled pistachios
Method
Preheat the oven to 150ºC/gas 2.


Place the duck legs and fat in a roasting tray, season, then smash and tuck in the garlic and 3 thyme sprigs.


Cover with foil and roast for 2 hours, or until the meat is falling off the bone. Remove from the oven.


Once cool, discard the skin and shred the meat off the bone.


Roughly chop and mix in the pistachios and sultanas, then add the vinegar and remaining thyme leaves. Add enough cooking fat to bind the mixture – this should be about 2 tablespoons. Season to taste.


Delicious served with sourdough toast.


This great family recipe is thanks to Jamie Oliver Recipes at https://www.jamieoliver.com/recipes/duck-recipes/duck-rillettes/