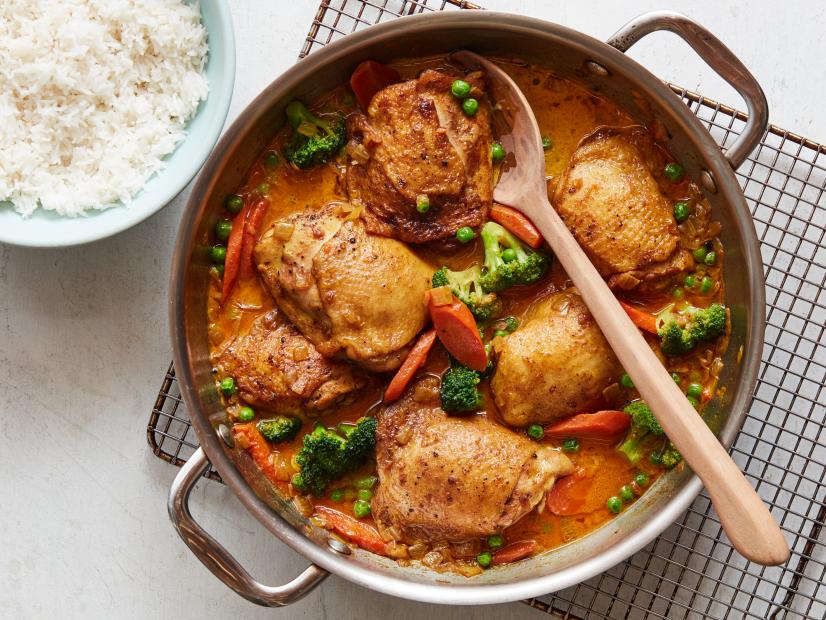 Broccoli and carrots round out this creamy curried one-pot chicken served over fragrant basmati rice.
Prep Time
    •    Prep and cook time: 25 minutes
    •    Yield: Serves 4

Ingredients
    •    1 tsp cumin
    •    1 tbsp butter
    •    1 tsp cinnamon
    •    salt and pepper
    •    1/2 tsp cayenne
    •    6 chicken thighs
    •    3/4 cup frozen peas
    •    3 tsps curry powder
    •    2 tbsps vegetable oil
    •    1/4 cup heavy cream
    •    1 cup broccoli florets
    •    1 cup chopped onion
    •    cooked basmati rice, for serving
    •    1 1/2 cups low sodium chicken stock
    •    2 carrots, peeled and sliced on diagonal

Method
Heat oil in large skillet and stir in butter to melt. Season chicken thighs with salt and pepper. Cook thighs skin side down until golden brown. Flip chicken and continue to cook until golden brown. Remove chicken to a plate.
Stir in onions and cook until tender. Stir in curry, cayenne, cinnamon and cumin and cook until aromas are released. Stir in carrots and toss to coat. Add chicken stock and bring to a simmer.
Place chicken thighs back into skillet and stir in broccoli. Cover and simmer for 15 minutes to cook chicken.
Stir in cream and peas. Season to taste. Serve with basmati rice.
This great family recipe is thanks to Food Network at https://www.foodnetwork.com/recipes/curried-chicken-thighs-recipe-1957943