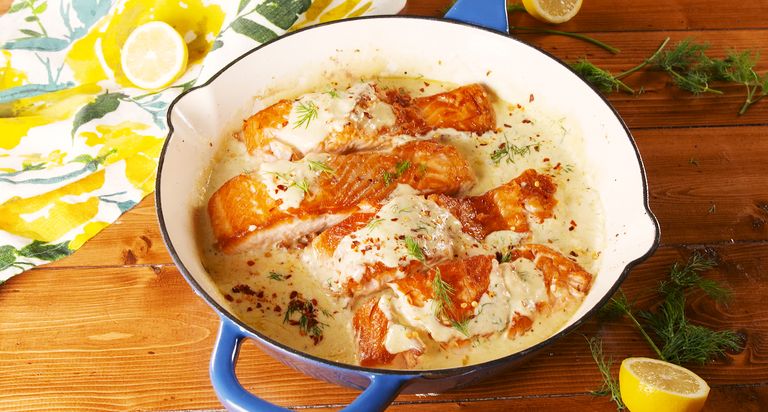 Creamy Lemon Garlic Salmon
Prep Time
    •    Prep time: 10 minutes
    •    Cook time: 20 minutes
    •    Yield: Serves 4

Ingredients
    •    kosher salt
    •    1 tbsp butter
    •    2 tbsps chopped dill
    •    4 x 6 oz salmon fillets
    •    1 1/4 cup heavy cream
    •    3 cloves garlic, minced
    •    1 tbsp all-purpose flour
    •    Juice and zest of 1 lemon
    •    1 tbsp extra-virgin olive oil
    •    Crushed red pepper flakes
    •    freshly ground black pepper

Method
Season salmon all over with salt and pepper. In a large skillet over medium-high heat, heat oil. Add salmon, skin side-up, and cook until golden and seared, 6 minutes. Flip and cook until skin is crispy, about 5 minutes. Remove salmon from skillet and transfer to a plate.
Reduce heat to medium, and melt butter. Stir in garlic and cook 30 seconds, then stir in flour and cook 30 seconds more. Whisk in heavy cream. Bring to a simmer and let thicken slightly, 2 to 4 minutes. Stir in lemon zest and juice and dill. Season with salt and pepper then return salmon to skillet and let simmer in sauce for 1 minute.
Garnish with crushed red pepper flakes before serving.
This great family recipe is thanks to Delish at https://www.delish.com/cooking/recipe-ideas/a23121561/creamy-lemon-garlic-salmon-recipe/