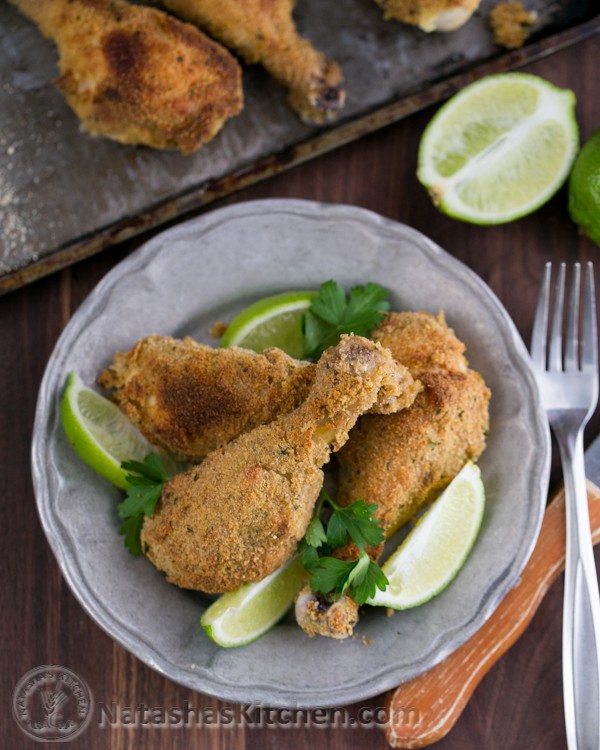 Breaded Baked Chicken Drumsticks Recipe
These breaded, baked chicken drumsticks are crunchy on the outside and super tender on the inside. The garlic mustard sauce is delicious! There's no need to marinate or wait since the breading seals in all of the amazing flavor so it basically bastes itself. Crunchy on the outside; super tender and bursting with flavor on the inside. This is a no-nonsense recipe and these drumsticks also re-heat really well. I tossed them onto a lightly oiled skillet the next day and toasted over medium heat until they were crisp again. This recipe can easily be cut in half to feed a smaller crowd.

Prep Time
    •    Prep time: 10 minutes
    •    Cook time: 58 minutes
    •    Yield: Serves 8-12
Ingredients
    •    4-4.5 lbs. chicken
    •    drumsticks about 14-16
    •    Sea Salt & Pepper
    •    1/2 cup dijon mustard grey poupon is my favorite
    •    1/2 cup real mayo or vegenaise
    •    4 garlic cloves pressed
    •    2 cups seasoned italian-style bread crumbs I used Progresso brand
Method
Preheat Oven to 350˚F. Line a baking sheet with foil if you want to save yourself some clean-up time.


Rinse chicken in cold water then pat dry with paper towels and season both sides of the drumsticks with salt and freshly ground black pepper.


In a separate bowl, whisk together 1/2 cup dijon with 1/2 cup mayo and 4 pressed garlic cloves.


Place 2 cups seasoned breadcrumb in a separate bowl with a wide enough base to accommodate a drumstick. Now you have your assembly line ready.


Roll or Brush your mustard mixture onto all sides of the drumsticks and double roll each of them into just the bread crumbs to get a nice coating on them.



Transfer breaded drumsticks to a baking sheet and bake at 350˚F for 50-60 min (min were in there 55 min + 3 min broiled) . Don't crowd drumsticks or they won't crisp on the bottom like they should; for extra crispness on all sides, bake on a wire rack set inside of a rimmed cookie sheet). Bake until chicken is cooked through. If you want the skin crispy, put it under a hot broiler 3 min or so or until desired crispness (not blackness) is achieved.


This great family recipe is thanks to Natasha's Kitchen Recipes at https://natashaskitchen.com/breaded-baked-chicken-drumsticks-recipe/