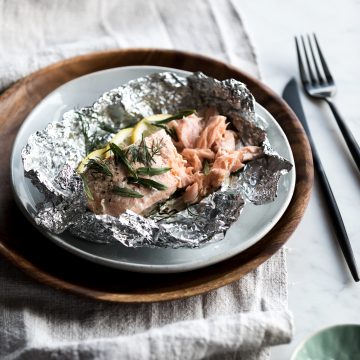 Seriously simple and equally as delicious!
Prep Time

    •    Prep time: 5 minutes
    •    Cook time: 15 minutes
    •    Yield: Serves 2
Ingredients
    •    2 140g Huon Salmon portions
    •    2 tbsp Butter
    •    1 Sprig of Dill
    •    1 Sprig tarragon
    •    1 Lemon - Sliced
    •    Sea salt
    •    Black Pepper
Method
Place 2-3 slices of lemon in the centre of a square of aluminium foil. Place Huon Salmon portion on the lemon.

Place the herbs on top. Place the butter on top.

Season. Fold over one side of the foil to meet the other and crunch up to seal the parcel.

Pre-heat BBQ to high, place foil parcel in the BBQ and close the lid - cook for 8-9 mins.

Remove salmon from the BBQ and allow to rest (still inside the closed parcel) for 2-3 mins.

Remove the fish from the parcel, season and serve.


This great family recipe is thanks to Huon Aqua Recipes at https://www.huonaqua.com.au/recipes/bbqd-herb-huon-salmon/