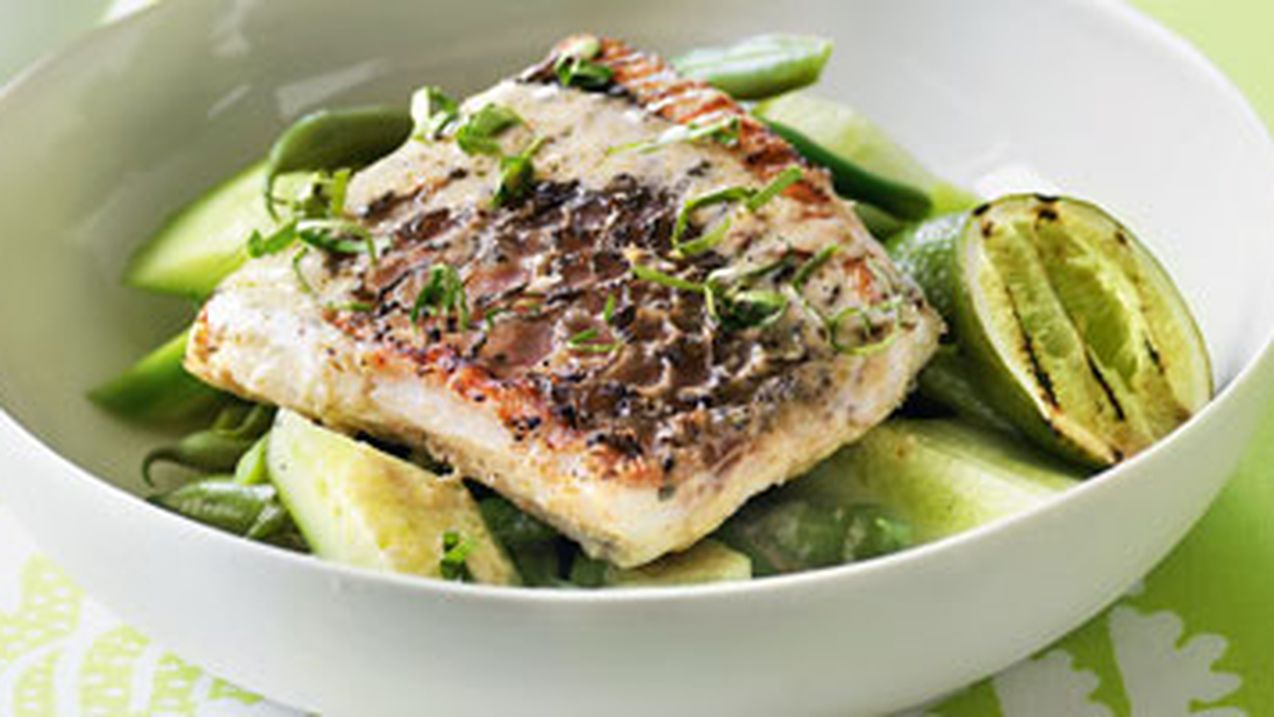 BBQ Barramundi in a Thai Marinade
Prep Time
    •    Prep and cook time: 30 minutes
    •    Yield: Serves 4

Ingredients
    •    4 barramundi fillets (approx. 200g each)
    •    500g green cucumbers, peeled, quartered lengthwise and cut diagonally into chucks

For Thai dressing:
    •    2 tbsps fish sauce
    •    1/2 tsp shrimp paste
    •    2 tbsps vegetable oil
    •    2 cups (500ml) coconut milk
    •    1/4 cup Thai green curry paste
    •    1 tsp palm sugar or brown sugar
    •    1 tbsp freshly squeezed lime juice
    •    2 kaffir lime leaves, cut into silvers

Method
Place barramundi fillets in a baking dish.

Heat oil in a heavy frypan over moderate heat. Add shrimp paste and sauté for 1min or until fragrant. Add green curry paste and cook for 1min. Add coconut milk, fish sauce, lime juice, sugar and half lime leaves. Bring to a boil, then simmer for about 5mins or until mixture is thick. Remove from heat and set aside to cool.

Pour half of dressing over fish and refrigerate remainder. Turn fish a few times to coat, then cover and marinate in fridge for 2hrs, turning from time to time.

Preheat barbecue to a moderately high heat.

Oil grill plate. Place fish on grill, skin-side down. Grill for 3mins, then turn over carefully and cook for a further 3mins, or until flesh is flaky and fish is cooked through.

Meanwhile, heat remaining sauce in a saucepan over a low heat. Place beans and cucumber in a deep platter, add fish and spoon sauce over. Scatter with remaining kaffir lime leaves and serve immediately.
This great family recipe is thanks to Honey Kitchen at https://kitchen.nine.com.au/recipes/barramundi-with-thai-dressing/74577321-22ed-425b-9047-c37bc5e4478c