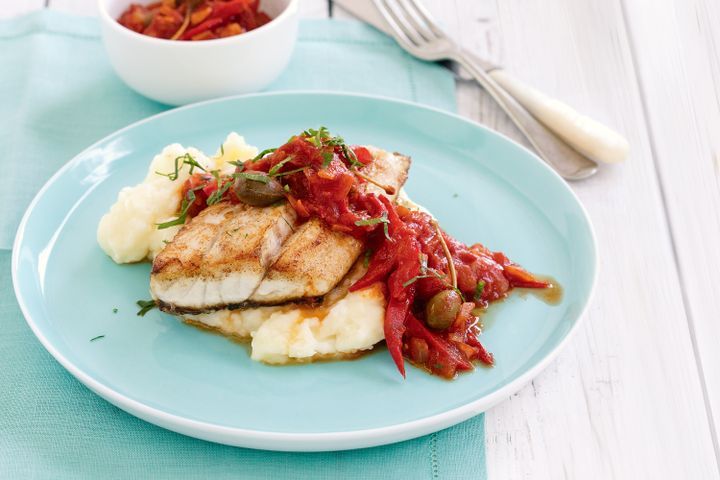 Barramundi with Tomato Caperberry Sauce and Mash
Turn barramundi fillets into a meal sensation with a few ingredients and this clever recipe.
Prep Time
    •    Prep time: 10 minutes

    •    Cook time: 40 minutes
    •    Yield: Serves 4
Ingredients
    •    40g butter
    •    2 tbsps tomato paste
    •    Potato mash, to serve
    •    1/2 cup dry white wine
    •    2 garlic cloves, crushed
    •    400g can diced tomatoes
    •    4 (150g each) barramundi fillets
    •    1 medium red capsicum, thinly sliced
    •    1 medium brown onion, finely chopped
    •    1/4 cup caperberries (see note), drained, rinsed
    •    Shredded fresh flat-leaf parsley leaves, to serve
Method
Melt half the butter in a saucepan over medium heat. Cook onion and garlic for 3 to 4 minutes or until softened. Add capsicum, tomato paste, tomato and wine. Bring to the boil. Reduce heat to low. Simmer for 15 minutes or until thickened. Add caperberries. Simmer for 5 minutes.
Melt remaining butter in a frying pan over medium heat. Cook fish, in batches, for 3 to 4 minutes each side or until cooked through. Serve with mash, tomato caperberry sauce and parsley.


This great family recipe is thanks to Taste Recipes at https://www.taste.com.au/recipes/barramundi-tomato-caperberry-sauce-mash/51d4f145-c5bb-43fc-ad2b-d24fb19d51cd