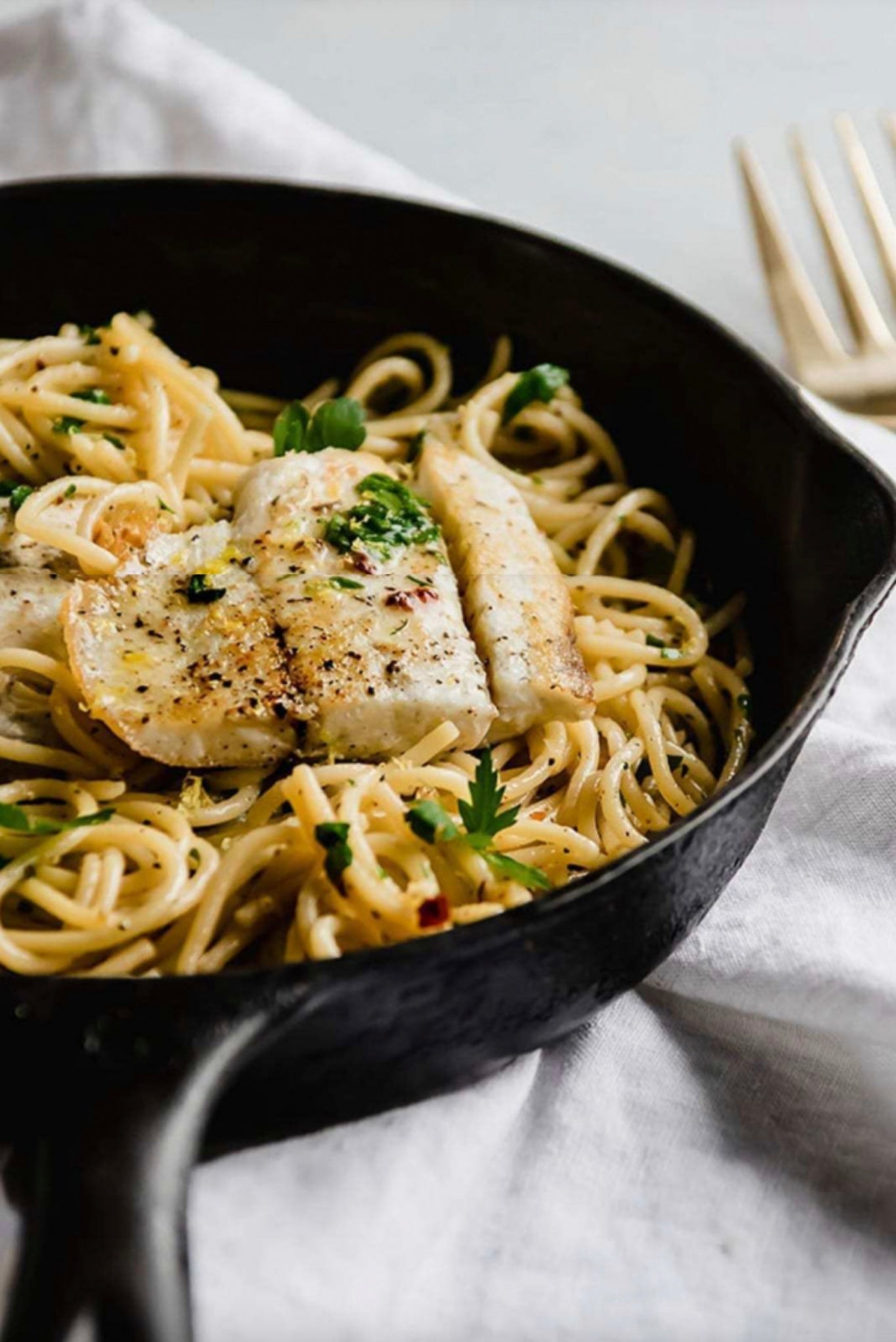 Barramundi Lemon Garlic Pasta
Tried and True Combo. This easy barramundi lemon garlic pasta is ready in 30 minutes, making it perfect for busy weeknights!
Prep Time
    •    Prep time: 10 minutes
    •    Cook time: 20 minutes
    •    Yield: Serves 4

Ingredients
    •    salt
    •    3 garlic clove
    •    1 lemon, extra large
    •    2 x barramundi fillets
    •    4 tbsps unsalted butter
    •    1/3 cup extra virgin olive oil
    •    1/2 tsp crushed red chilli peppers
    •    1/2 pound spaghetti pasta or linguine
    •    1/2 cup parsley, chopped, plus extra for garnish

Method
Using a vegetable peeler, remove the zest from the lemons in long strips. Use the side of a chef knife to smash the garlic cloves well, until nearly flat.
In a small saucepan, combine olive oil, butter, garlic, red pepper flake and lemon zest, then place on a burner on the lowest possible setting.
Bring a pot of heavily salted water to a boil. Cook the pasta until al dente, then drain, reserving 1 cup of the cooking water.
While the pasta is cooking, prepare the barramundi. Slice the filets in half crosswise, then pat dry with paper towels and season with salt and pepper.
Pour two tablespoons of the garlic oil into a nonstick skillet over high heat, swirling to coat the bottom pan. Place the filets in the skillet and cook without moving until the edges become opaque, about two minutes. Gently slide a thin spatula under the barramundi to flip; if it's sticking, let it cook for another 30 seconds before trying again — it will release easily once properly seared.
Once flipped, cook for an additional 1 ½ minutes until cooked through, then remove to a plate and loosely cover with aluminum foil.
Remove saucepan from the stove; remove lemon zest and garlic cloves. Whisk in lemon juice and parsley. Taste for seasoning, adding salt and pepper as needed.
Toss ⅔ of the sauce with the pasta, adding pasta water as needed if it looks dry. Divide the pasta between two plates, then top with the seared barramundi. Pour the reserved sauce on top of the fish and serve immediately.
This great family recipe is thanks to The Better Fish at https://www.thebetterfish.com/recipe/barramundi-lemon-garlic-pasta/