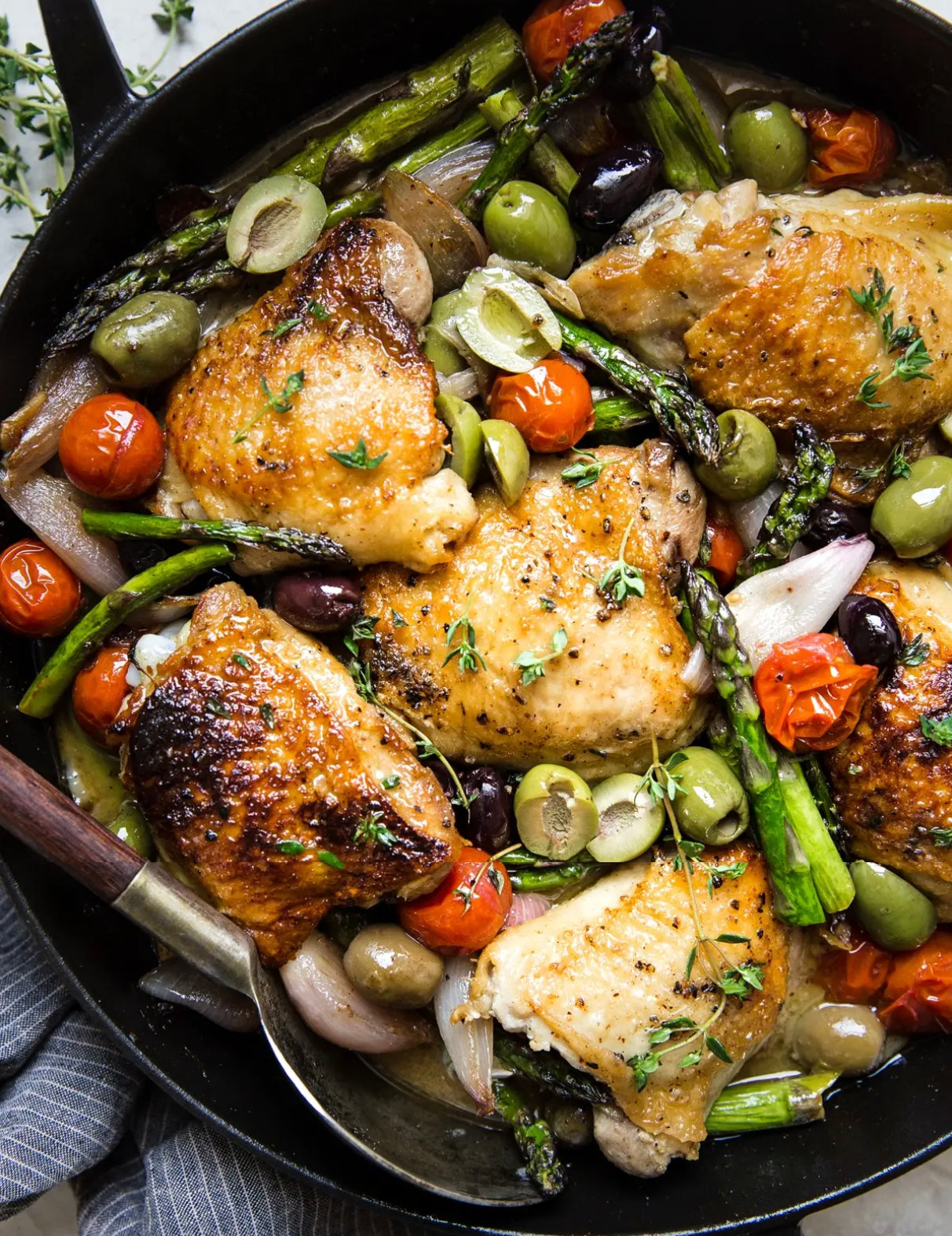 Baked Chicken Thighs With Asparagus
This garlicky chicken thighs with asparagus stand alone—the olives and roasted cherry tomatoes make the finished one-pan dinner feel plenty bountiful. However! When we're feeling up for using a second pan, we'll whip up some simple seasoned brown rice to serve with the baked chicken thighs.
Or, you could serve it with a nice loaf of crusty country bread to sop up the sharply savory, herb-flecked, garlicky white wine-Dijon sauce.
Prep Time
    •    Prep time: 10 minutes
    •    Cook time: 55 minutes
    •    Yield: Serves 6
Ingredients
    •    1 tsp salt
    •    1 tbsp olive oil
    •    1/4 tsp pepper
    •    5 sprigs fresh thyme
    •    3 lbs. chicken thighs
    •    1 tbsp Dijon mustard
    •    1 mixed olives, pitted
    •    1 1/2 tsp salt, divided
    •    1 pint cherry tomatoes
    •    2/3 cup dry white wine
    •    8 cloves garlic, thinly sliced
    •    1 lb. asparagus, ends trimmed
    •    6 medium sized shallots, quartered
Method
Heat oven to 375°.
Pat chicken thighs dry with a paper towel and season with 1 tsp salt and pepper both sides.
Heat olive oil in a cast iron skillet, dutch oven or other ovenproof skillet. Sear the chicken skin side down until skin is golden brown about 8 minutes. ** Flip chicken thighs and cook for 5 minutes longer. Remove chicken from pan, set aside on a plate.
Reduce heat to medium. Add shallots to the pan and cook for 3-5 minutes until they begin to brown.
This great family recipe is thanks to The Modern Proper at https://themodernproper.com/baked-chicken-thighs-with-asparagus