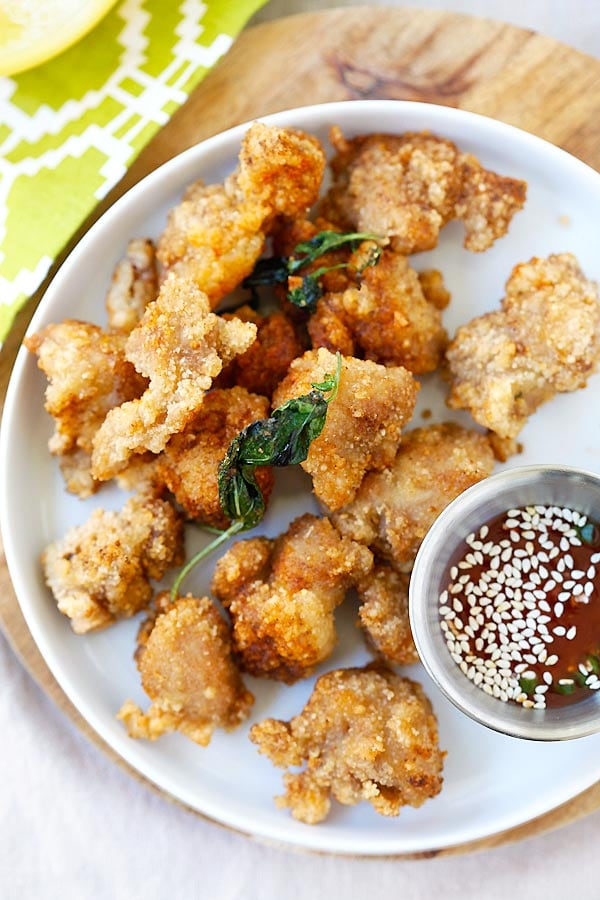 Asian Popcorn Chicken - crispy, juicy and delicious Asian fried chicken nuggets. Quick, easy and budget-friendly recipe for the entire family!
Prep Time
    •    Prep time: 15 minutes
    •    Cook time: 10 minutes
    •    Yield: Serves 2-4

Ingredients
    •    1 cup cornstarch
    •    oil, for deep-frying
    •    2 stalks Thai basil leaves (Optional)
    •    1/4 tsp bottled pepper salt powder (Optional)
    •    8-10 oz chicken thighs, cut into bite-size cubes

For marinade:
    •    1 tsp salt
    •    1 tsp sugar
    •    1 tbsp soy sauce
    •    1 tsp oyster sauce
    •    2 cloves garlic, minced
    •    1 inch piece ginger, minced
    •    1/4 tsp ground black pepper
    •    1 tbsp Chinese rice wine (Optional)

Method
Mix all the ingredients for the Marinade in a big bowl, stir to combine well. Add the chicken, coat well and marinate for 30 minutes.
Heat 2-3 inches of the oil in a pan or stock pot for deep-frying. Coat the chicken with the cornstarch evenly. Shake off the excess. Deep-fry the chicken until they turn golden brown, remove from the oil with a strainer or slotted spoon, draining the excess oil by laying them on a wire rack or a dish lined with paper towels.
In a clean pan or skillet, add the basil leaves and stir a few times before adding the chicken back into the pan or skillet. Remove from heat, add the pepper salt powder and toss well with the chicken. Serve immediately.
This great family recipe is thanks to RASA MALAYSIA at https://rasamalaysia.com/asian-popcorn-chicken/