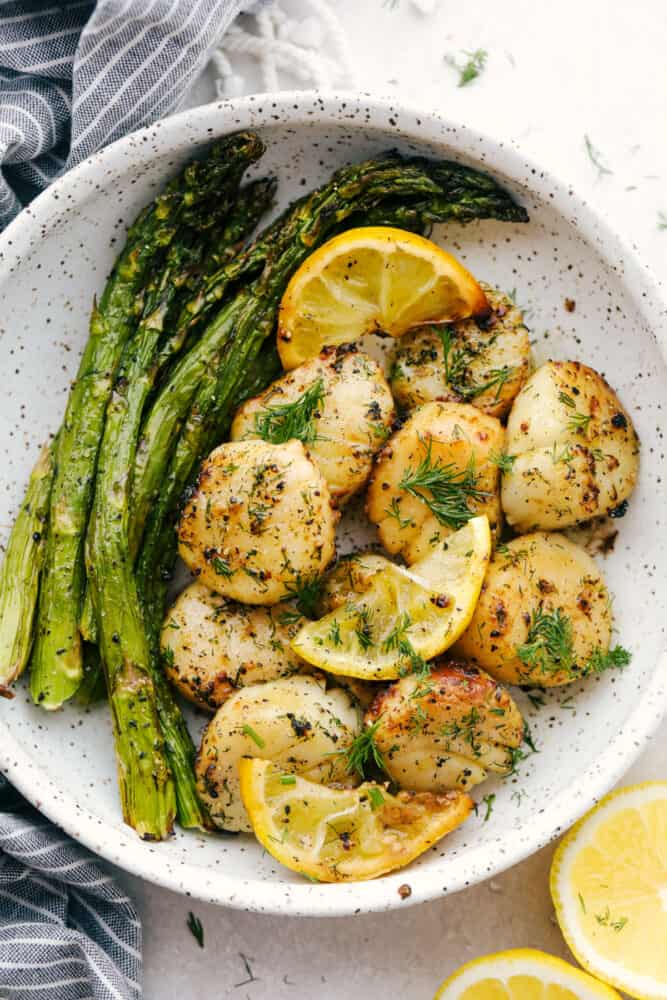 Air Fryer Lemon Dill Scallops
Air Fryer Lemon Dill Scallops are going to change the way you eat scallops! These are chock full of flavor, tender, juicy and succulent!
These scallops done in the air fryer are going to blow your tastebuds. The air fryer just infuses the lemon and dill into the scallops which creates a deep rich yet bright and zingy dish. Perfect for summer. Air Fryers are a cook's dream come true! They are fast, healthier, and cook everything to perfection! Plus dishes are reduced and you do not have to heat up the kitchen to cook. Perfect for those hot days. Now you can have incredible luscious meals, save time, stay cool and eat like a king!
Prep Time
    •    Prep and cook time: 35 minutes
    •    Yield: Serves 4

Ingredients
    •    garlic - freshly minced garlic
    •    salt and pepper - add to taste
    •    scallops - rinsed and patted dry
    •    butter - melt your butter to stir in the mix
    •    lemon - freshly squeezed for zing and tartness
    •    olive oil - will coat the scallops and help the flavourings stick
    •    dill chopped - I used freshly chopped dill, but you can use dried

Method
Mix the flavour - In a medium-sized bowl combine scallops, olive oil, butter, garlic juice of one lemon, dill, and salt and pepper.
Scallops - Add the scallops in a single layer in the basket of your air fryer.
Air Fry - Cook at 400 degrees for 6-8 minutes or until it reaches an internal temperature of 120 degrees.

Air Frying Scallops TIPS:
    •    Do not overcrowd: When you place them in the air fryer be sure to not overcrowd them or they will not cook evenly.
    •    Every Air Fryer is Different: The number one rule when trying out a new recipe in your air fryer is to check your food often, some air fryers are more powerful than others and you do not want food that is undercooked or overcooked, so check it!
    •    Do not use cooking spray: Cooking spray has additives that can ruin the basket. If you feel like you need to oil your basket do it with an oil pump instead.
    •    These will not brown like pan searing: Do not wait for these to turn brown to know if they are done. You will need an internal thermometer.

    •    Dill: If you cannot find fresh dill, you can use dried. Use half the amount called for as dried herbs are potent than fresh.
This great family recipe is thanks to THE RECIPE CRITIC at https://therecipecritic.com/air-fryer-scallops/